Local people serving local people
Our Mission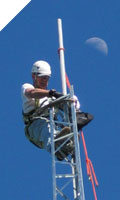 To enhance economic development and job creation opportunities in rural and remote locations by bringing connectivity to un-served and under-served communities nationwide.
We will do this with our:
Partnering and revenue sharing approach
Collaborative and open culture
Employment of local people, contractors, companies wherever possible
Value added services that help clients utilize technology for more than simple entertainment
Our Core Values
Honesty and integrity in all we do.
Open, honest communication
Commitment to local employment and economic development
Commitment to customer as #1 priority
Our People & Experience
We are a dedicated, innovative, and experienced team.
Indigiinet Chairman and CEO, Bill Hay, is a well known, well respected leader and entrepreneur. He successfully owns and operates multiple technology based businesses and has been recognized with the "Entrepreneur of the Year Award". Mr. Hay has a diverse educational and career background which has empowered him with all of the skills necessary to lead Indigiinet and bring value to it's shareholders.
Our team members, board members and advisors bring a cohesive skill set to our company and work as a collaborative team to reach our mutual goal of bringing broadband connectivity to rural and remote communities. They are action oriented, results driven professionals who live in the communities we serve and are proud to share their expertise with their fellow residents.
If you are a self-motivated individual dedicated to quality in all that you do and are interested in becoming a part of the Indigiinet team then we invite you to submit your resume and a brief cover letter outlining your skills and experience.